As already described in "Breed history" the breed was very distant to the origin. From the reliable, highly esteemed working dog it became a pure show- and family dog. Such a development seldom is an advantage ...and in case of the Clumber Spaniels it doesn't agree to the breed.
The turnaround for the breed came with the foundation of the "Working Clumber Spaniel Society" in Great Britain 1984,
with breeders who make a point of doing to breed active, healthy Clumber Spaniel with physical soundness and functional qualities, maintaining and upholding the original working breed type - ;the revival of the breed Clumber Spaniel as a
"natural working dog". "To restore to the breed physical soundness and the essential qualities needed by a working spaniel game sense, stamina, agility, willingness to please, ease of being trained, modest size and weight, freedom from hereditary defects and freedom from exaggerated features encouraged by breeding for appearance only..." (Originator: WCSS) This commitment, were enshrined in its rules. The WCSS is a platform for all holders of these extremely capable hunting dogs which are interested in the use of the breed and the training.
By chance we came across photos and videos of this Working Clumber Spaniel which made us very curious about the breed, their job and their way of working. A curiosity, a Clumber as you can see them on Dog shows never could have awakened in us. When we decided to become connected with breeders in Great Britain, it took quite a while until we could get on the
road to meet our Velvetchen and take her home.
Nevertheless, we are not hunters, we try to adapt the training to the tasks and natural abilities of the Clumber Spaniel, wherefore they also show a natural talent and what makes great fun to them. Not surprising, since it is not only based on experience, but also proven by studies, that the working line in terms of trainability - that of the examined characteristics with the highest heritability - has a lead. e.g.:
- the willingness to cooperate with humans
- how quickly a dog can learn in new situations
- how high he can concentrate on a task
There are also overlaps with impulse control. ......more about in Why...IV
It is also important here that these skills, which have been inherited over generations maternal and paternal sides, must continuesly to be fostered by a stimulating environment in order to use this "learning advantage" permanently.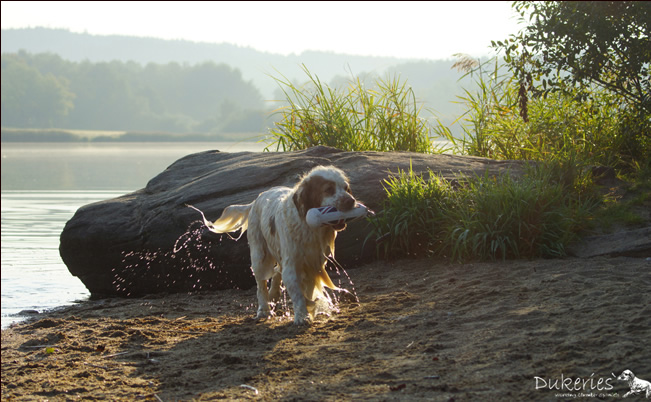 "The man who owns a good dog of this breed....possesses a treasure!" (Robert Leighton, 1910)

Here are a few links to "Working Clumber Spaniels in action", just as we know and love them:



If I read today in breed descriptions something of the kind: "it slavers, snores and gasps," it makes me not only angry at the author - who has unfortunately failed to visualize a complete picture of this breed, but also sad that the persons responsible for breeding allowed that these wonderful dogs were narrowed to it.
By the way, the statement a Clumber from a working line is more difficult to train, is not true – au contraire. At last, only the Clumber Spaniel which forms a good team with its attachment figure, is an successful Gundog, what is certainly respected even at breeding.